BLAST GEAR COMPATIBLE SUPERHERO ACTION FIGURE – Connect Blast Gear projectile launcher (Not included Sold separately with Titan Hero Blast figures ) to port on Spider-Man action figure's back and fire projectiles!

LOOK FOR OTHER SPIDEY SUPER HERO TOYS – Be on the lookout for other Spider-Man figures and gear to imagine the web-slinger swinging into action! Additional products each sold separately Subject to availability

TITAN HERO BLAST GEAR LAUNCHER – sold with Titan Hero Blast Gear figures Each sold separately Subject to availability

30cm Scale Spider-Man Action Figure – Imagine Peter Parker who fits like the friendly neighborhood spider-man with this 30cm scale spider-man figure, inspired by the classic marvel comic character design

Superhero Action Figure – Connect the rocket launcher (not included; sold separately with titan hero blast figures) to the spider-man back door to activate spider-man movie inspired sounds and phrases

Spider-man movie inspired design – fans can imagine the adventures of spiders running through the web and crawling walls with this spider-man figure, inspired by the marvel comic book character

Discover more spider-man games

Includes spider-man character
INSPIRED BY THE CLASSIC MARVEL CHARACTER:
Spider Man Titan Hero Series figure features classic design and is inspired by the iconic red and blue hero from the Marvel Universe.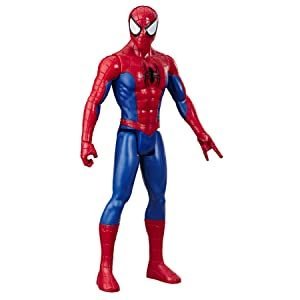 Imagine the web-slinging hero swinging through the city with this Spider Man figure from the Titan Hero Series! With this line of toys, kids can imagine the web-slinging, wall-crawling action as Spider Man faces new challenges and new villains. Products each sold separately. Subject to availability.